Strengths
Student Clubs
TATVA newsletter editorial Team
TATVA newsletter editorial club was started in 2009. TATVA brings out the hidden talents, ideas and innovations of the students.
RNSIT-ISOI Student Chapter
This student association is responsible for the techno - cultural events conducted at the department level and college level. This Chapter organizes the intra-college edition of 'Evolution' annually.
Extracurricular EIE Club
The cultural and Sports talents of EIE students are exclusively showcased by this team at Inter and Intra college events.It also undertakes the execution and volunteering of NSS and CSR activities.
Awards & Achievents
Apoorva Sharma(2013-2017)
I Rank VTU Convocation-2018
Manasa R(2014-2018)
I Rank VTU Convocation-2019
Aishwarya B Naik(2015-2019)
I Rank VTU Convocation-2020
Varun, Abhilash, and Akshaj
Winners of International Innovation challenge For the project "Ultrasonic Smart stick for the Visually Impaired "at IEEE YESIST12-2019 conducted by Stamford University Thailand.
Nimisha Kushal Kumar, Keerthana and Varun Shailesh
The solution challenge under DSC is listed in the top 50 projects world wide by Google.
Apratim Das
Code young: 7 LPA
Abhinav D
Code Young: 7 LPA
Komal Y S
Code Young: 7 LPA
Akshaj S
Siemens Internship: 25K per month
Varshinee Velayudha
Flurn: 7 LPA and internship- 25KPM
Alumni Association
Our Alumni are our biggest strength. They are placed all over the globe and regularly help the students in terms of PG admissions abroad, provide career counselling, help in placements, provide support in research & thesis evaluation, generously contribute to the infrastructure, three of our alumni are also our staff, they also have donated equipment (network analyser, books), and in short have brought laurels to the Department.
ABHIJIT JANARDHAN(2008-2012), PROJECT MANAGEMENT BUSINESS PARTNER AND CHANGE AND INNOVATION EXECUTIVE, AIRBUS, BENGALURU
Testimonials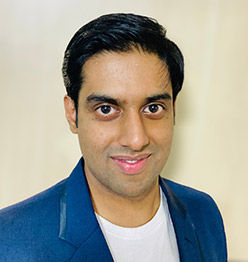 Abhijit Janardhan
Abhijit Janardhan(2008-2012), Project Management Business Partner and Change and Innovation Executive, Airbus, Bengaluru.
RNSIT has played a vital role in grooming me as an engineer and as a leader. The faculty and support staff are very knowledgeable, open to new ideas, always there to support us whenever and wherever required. This support doesn't end with completion of the course but goes way beyond. I got a firm foundation in Electronics & Instrumentation during my bachelors which helped me greatly during my Masters. If someone is looking for a place for all round development and not only as an engineer, RNSIT is one of the best places.
Kiran Nanaiah
Software Engineer, Dish Network, Pune Dept. of EIE (2015-19)
One of the most amazing department in RNSIT, the staffs are chilled out and they encourage their students to progress in their own fields of interest. The professors are among the best and experienced in their fields of engineering, as they come with their own background years of experience. The laboratories does have top notch equipments and instruments up to date with the recent developments, where the students can experiment all they want and the knowledge learnt there is limitless. They make their students industry ready with the recent developing topics in the current world with the touch of various technologies.
Nisha P Prabhu
Associate Software Engineering, Robert Bosch Dept. of EIE (2015-19)
Myself Nisha P Prabhu, I graduated from RNSIT in the year 2019, with my bachelors in Electronics and Instrumentation Engineering (EIE). It was a wonderful four year journey where I was able to grow both professionally as well individually. Department of Electronics and Instrumentation as a group of well trained professors who guide us throughout. They provide us the space where we can grow technically. In the pre final year we had placement training which helped me improve my soft skills as well as programming skills which in turn helped during the campus placements. We have a project open house which is conducted every year where we can showcase our talents. I am happy to be a part of the RNSIT family.
Get In Touch
Dr. M K Venkatesha
Principal
RNS Institute of Technology,
Dr. Vishnuvardhan Road
R R Nagar Post
Channasandra
Bengaluru -560 098