Strengths
Student Clubs
International Society of Automation-ISA
The ISA is a non-profit professional association of engineers, technicians and management engaged in industrial automation. The EEE department of RNSIT has a student chapter of ISA, which provides an opportunity for the students to participate in numerous technical talks, workshops and activities to enhance their technical and leadership skills. We are quite delighted to share that Akash A of the 2014-18 batch of EEE department, RNSIT, was awarded the 'Best student member, 2017-18'.
Awards & Achievents
ARSHIYA BEGUM [2016-2020]
VTU RANK-10
CGPA-8.97
POORVAJA HARISH [2017-21]
Qualified in GATE examination, 2021
SAGAR MANJUNATH SINGH [2017-21]
Qualified in GATE examination, 2021
SONITHA S [2017-21]
Qualified in GATE examination, 2021
Abhishek Kumar [2016-2020 batch]
ValueLabs: 16.5 LPA
Ishita Sanyal [2017-2021 batch]
Texas Instruments:14.2 LPA
Raksha Umesh [2012-16 batch]
VTU rank-2
Trapti S Punja [2011-15 batch]
VTU rank-9
Anirudh T S [2009-13 batch]
VTU rank-10
Krithika S Murthy [2006-10 batch]
VTU rank-3
Namratha Rao P L [2006-10 batch]
VTU rank-7
Chaithanya D [2016-18 batch]
M. Tech VTU rank-1
Likitha U N [2016-18 batch]
M. Tech VTU rank-3
Brunda K [2017-21 batch]
VTU rank 2
ANKITA BHUNIA, BHAVANA REVADI and NIMISHA AGARWAL[2017-21]
Received funding from Karnataka State Council for Science and Technology for their BE final year project titled 'Smart Mirror'.
Akash A [2014-18]
Received best student member award 2017-18. ISA student chapter
Raghav Ambashta [2018-22 batch]
LTI-8 LPA
Alumni Association
I get to visit RNSIT frequently and on many occasions it feels great when we are invited as speakers for PEP Talks, Tech Talks and also as jury members for annual Project open House Panorama (PROP) . It gives the sense of satisfaction to visit the institution and give back the best we can. Am proud to be an alumni of RNSIT
Deekshitha Mayya (2018 Batch)
Testimonials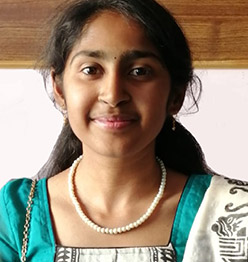 Bhavana Revadi
2017-2021 Batch
Albert Einstein said " Education is not the learning of facts, but the training of the mind ". RNS Institute of Technology follows this through and through. They have not only acted as a stepping stone in my academic profile but have also helped me grow as an individual as well.
The largest aspect of the EEE Department, RNSIT, is the methodology of teaching and learning. I'm thankful to our faculty who have always encouraged us to not just excel in academics but also to evolve in other activities too.
The placement is another feather in the cap of RNSIT, which gave me extensive exposure to the different aspects of technical and non technical skills and helped me fetch multiple job offers.
I will be always grateful to RNSIT team and EEE department for providing me with such good experience and opportunities during my course as well after it.
Harish Shastry
2012-2016 Batch
I, Harish Shastry currently pursuing my master's in University of Florida, USA . I was able to start my career in Siemens, Energy Department and pursue well being mainly due to the strong foundation in the Electrical domain that I got from my department.
I had the opportunity to work on research projects which made me devise solutions to real world applications. Project open house conducted every year helped me to get into various disciplines of engineering domain.
The teaching faculty and other staff have always encouraged me to achieve greater heights in my academics as well as extra curricular activities during my stay.
I feel extremely grateful and satisfied to call myself a proud RNSITian.
Kiran Kinhal
2011-2015 Batch
I am Kiran Kinhal, working as a Design Engineer, Intel Technologies. My journey at RNSIT is nothing short of amazing .
Professors of the EEE department are technically sound and encouraging, which helps any student to acquire the technical know-how and realise their dreams coming true.
RNSIT has given it's 100% of how they claimed it is. After 4 years , I realized that " learning has just begun".
I wish all the best to anyone who has been lucky enough to get into this esteemed organization.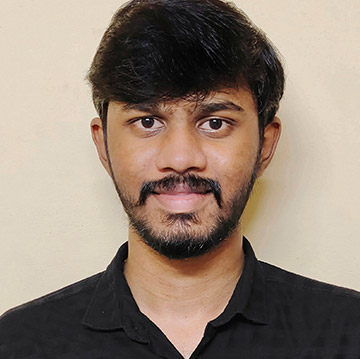 Shyam Suresh
2018-22 batch
The years spent at RNSIT were full of learning opportunities with the right blend of fun and academics. I'm grateful to the faculty of the Department of EEE who have guided me in my journey so far. Teachers are highly qualified, knowledgeable, caring, friendly and would leave no stone unturned to shape students' future. The campus is with state-of-the-art infrastructure and facilities. The placement support helped me to fetch multiple offers from the most reputed organizations.
Faiza Aftab
2019-23 batch
RNSIT has a great environment for learning as hard work and new ideas are valued here. I got the opportunity to join EEE where all the faculties are extremely supportive and full of knowledge. My department not only helped in my journey of engineering, but also made my personality grow in different domains of tech and non-tech. I got a chance to work on my department Newsletter, indulge in college clubs and do internships which helped me to become multidimensional.
Dhanyashree B P
2018-22 batch
My overall experience at RNSIT has been exceptional. We have high quality infrastructure and facilities with well- defined equipment. Our department faculties are exceptional and extremely encouraging. It is the best place for people who want to learn and build their careers. All these years have been valuable and have got complete support from teaching and non-teaching staff. I would definitely recommend this college to all engineering aspirants.
Get In Touch
Dr. M K Venkatesha
Principal
RNS Institute of Technology,
Dr. Vishnuvardhan Road
R R Nagar Post
Channasandra
Bengaluru -560 098